Gist Flourish Fountain
Product Description
The Gist Flourish Fountain features a robust and incredible water fountain design that can be customized in any finish you want. Be prepared to impress all of your guests with it's elegant water flow. Gist now offers all our Design Cast products out of GFRC concrete. These items are made with glass fibers which reinforces the product more than traditional concrete. This makes the concrete about three times are strong, is more suitable for fire use around live fire or fire pits, and gives the product a completely smooth finish. These products are manufactured in a smooth finish or textured finish.

Product Details:
Optional electric pump (sold separately) which provides a recirculating fountain pump for optimal efficiency and eco-friendly operation by recycling the water source
Material: GFRC - Glass fiber reinforced concrete which is fire retardant
Finish/Color Shown: Heavy Sierra - reference detailed images for color chart
Disclaimer: Each fountain is hand finished, so finish variation is expected and desirable as it makes each fountain truly unique and is not a reason for return.
Warranty: 1 Year Limited Manufacturer Warranty
Handmade with the highest quality in the USA
Not recommended for use on carpeted flooring or hard wood floors - Gist is not responsible for damage done to your flooring
Several finish options available - see detailed images for finish options
No installation required - manual fill design
Optional Float/Auto Fill keeps your water at the desired specific water level so that it does not overflow
Dimensions and Weights:
Dimensions: 62"H x 43"W x 43"D
Weight: 365 lbs.
Slate
is full natural stone. It has natural layers and uncut edges.
Featherstone
is similar to slate but a lighter weight alternative. It has the first layers of real slate backed onto a rubber and foam backing. Its almost like a slate stamp. It looks and feels like slate to the touch, but it is about a quarter of the weight.
Marble
,
granite
, and
travertine
are all natural unpolished stones. They do not have the same texture as slate, there are barely any layers or texture. Marble will have natural veining run through it.
Acrylic Colors

Natural Colors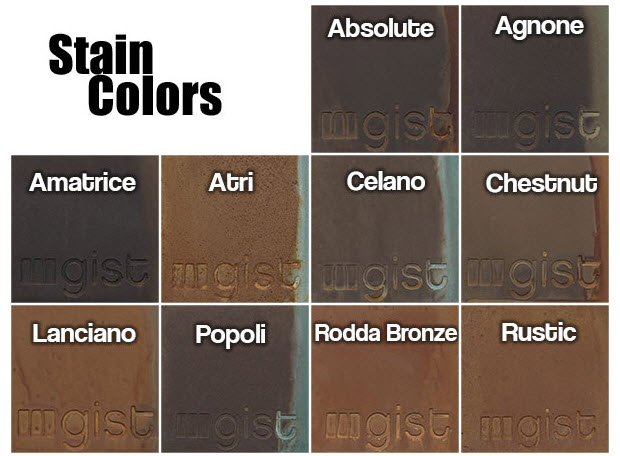 Stain Colors
The GIST Color Palette
Product Q&A
Have a question? Need more information? Ask our staff.
Q
I work for a landscape contractor and we have this fountain spec\'d on a model complex. Would you please tell me the length of the electrical cord(s) for the pump and float/auto-leveler? Also, do you know how long it takes to get the product once ordered? How long delivery to AZ? Thanks!
A
Please note that our Gist Flourish Fountain will feature a standard 6' electrical cord that will come out of the rear of the unit, you can dedicate an outlet in that area that you plan to place the fountain if you want to keep the cord hidden from sight.

Once you place the order on our website and specify your custom finish, we put the fountain into production for about 4 weeks (100% made in USA) and then we ship the fountain out to you via an LTL Freight carrier.

Our shipping company will give you a courtesy phone call a few days in advance to schedule a time and date for delivery so you will know exactly when to receive your order.
There have been no reviews